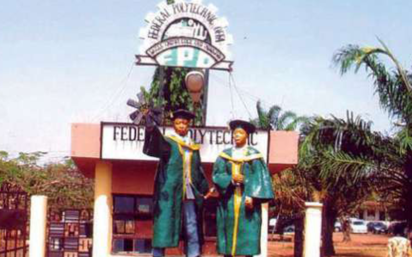 By DEMOLA AKINYEMI
Ilorin- The Management of Federal Polytechnic, Offa in Kwara state has suspended indefinitely, two students union leaders of the institution, Tajudeen Selim and Temitope Omotosho , suspected to be cult members.
This is contained in a press statement issued by the rector,Dr Lateef Admola Olatunji, made available to Vanguard in Ilorin.
Earlier before the students were paraded by the police, the statement noted that ,"The Institution reported the incidence of forceful initiation to security agencies when the student who was forcefully initiated lodged a complaint to the institution.
"The police quick response and intervention was evidently responsible for their arrest."
It added that,"The two suspected students were suspended indefinitely pending the outcome of the police investigation and further findings on the matter."
The statement however noted that," Adewusi Vincent who was mentioned along with the two has ceased to be a student of the institution having been withdrawn from the Polytechnic since 2017 for poor performance."
"The Management wishes to state unequivocally that cases of cultism have been a thing of past in the institution as the new management under Dr. Lateef Ademola Olatunji has purged the institution of all forms of cultism, gangsterism and other anti social vices since he came on board as Rector in 2017."stressed the statement.
" The Management has been dealing decisively with any student suspected to be involved in cultism or any criminal acts."added the statement.
It warned that,"Other offences such as examination malpractices, sexual harassment are also gross misconduct at the Polytechnic which attract outright expulsion from the institution. Students found culpable are equally handed over to the Law Enforcement Agents for prosecution."
The statement also stressed that the management, through the Directorate of Students' Affairs has put a lot of measures in place to checkmate cultism with the introduction of the use of security form, for newly admitted students; regular sensitization of students where they are admonished to steer clear of cultism, hooliganism and other forms of social menace.
It added that ,"The students have since been tutored to be of good conduct everywhere they are in order to ensure peaceful coexistence within and outside the polytechnic campuses and maintaining harmonious relationship with other colleagues and the host communities.
"Since then, the Students Union Executives and other students have been well behaved and have not been found wanting both in character and learning.
"It is on record that the Polytechnic enjoys a serene atmosphere, peace and tranquility than ever before. It was likely because of the institution's zero tolerance for cultism and stern sanctions on offenders who contravene and breach the rule that led the suspects to have taken themselves outside Offa to perpetrate the acts"
"Federal Polytechnic Offa wish to reaffirm its commitment to eliminate cultism and other related behaviours completely from the institution." added the statement.
Related